Let me be the first to admit that I love the whole "jar food" trend.  To me it's vintage meets modern day "busy."  If you are not familiar with this trend ,the concept is simple.  Collect a group of mason jars in various sizes (the kind used for canning) and re-purpose them as creative food containers.  In today's blog post I want to highlight some of the clever ideas that other bloggers have brought to life.  I also plan to give you a simple way to create a "picnic tea party" using the jar concept.
Imagine for a moment, a peaceful meadow on a comfortable sunny day.  Out of a large basket, you pull your favorite old fashioned quilt and spread it out on the grassy field.   At the bottom of your basket lies everything you need to serve a sumptuios meal "picnic style."
Here's what you need:

Straws

Forks and Spoons

Napkins

Small cutting board and knife

Garbage Sack

Music (everyone needs music for a perfect picnic)

Favorite Magazines

Jars of Food & Tea
Tea Party in A Jar – Menu:
First course: Ranch Chicken Salad in A Jar-
This idea comes from the blog, "Food For My Family" and can be read in its entirety  (including the recipe ) at http://foodformyfamily.com/recipes/ranch-chicken-salad-in-a-jar-mason-jar-meals    The concept is simple.  Prepare a salad in layers and wrap it neatly in a jar for serving.  The possibilities for this concept are endless.  Get creative and start thinking up your own ideas.  Your guests will be impressed and cleanup with be simple.
Side Dish: Roll in a Jar-
This idea comes from a variety of blogs  including Small Bites and Baked Bree.  If you don't have time to make rolls from scratch I suggest you simply by frozen dough and use it within the jars.  It should work just the same.  Be sure to grease the jars for easy removal.  Your guests will be delighted!  For the homemade recipe read: http://bakedbree.com/herb-rolls-baked-in-a-jar
Second course: Tea Cake In A Jar –
I have been making cake in a jar for years.  It holds for up to 3 months if you go through the process of sealing them and believe it or not, it simply slides right out of the jar and you can slice the rounds.  SO CUTE!  Here's another blogger that has done a similar thing only she has used small jars.  NOTE: You must use wide mouth jars or your cake will be stuck inside!http://www.instructables.com/id/Cake-in-a-Jar/
Personally, I would pop out the cake, slice it and serve the slices.  Remember you can be creative with a cake mix!  Why not replace the water required with brewed tea?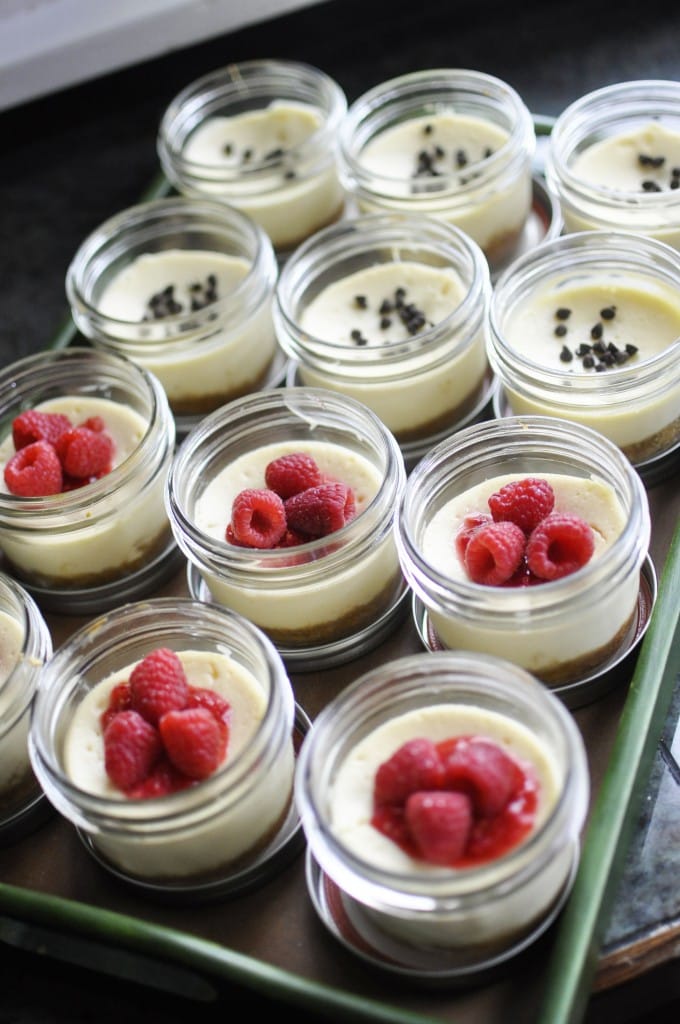 Dessert Course: CheeseCake In A Jar-
Cheesecake fans rejoice!  This simple, easy to move treat can be the centerpiece of your tea time picnic.  This particular recipe comes from Thrify NW Mom who always has lots of fun and fresh concepts for you to use.  The recipe and step by step instructions are here http://www.thriftynorthwestmom.com/2011/12/cheesecake-in-a-jar/
Dessert Course: Pie In A Jar-
I love pie! LOVE IT.  I come from a family of pie focused fanatics and I absolutely love this idea.  I am featuring the blog, Our Best Bites, for this idea.  Our Best Bites gives you a ton of ways to use this concept and ways to freeze the idea ahead of time.  Check it out http://4.bp.blogspot.com/_gLGOsirSkHc/Sr6F8UYWNQI/AAAAAAAAKGk/MMSCY5OcmH8/s400/apple+pie+with+flowers.jpg
Dessert Course: Cupcake In A Jar-
There are lots of great ideas for cupcakes in a jar.  They can be seasonal colors such as red, white and blue or they can be devoted to a theme.  These cupcake jars are devoted to a love of real red velvet cake.  If you and your guests love red velvet then this may be your dessert of choice.  Here is the link to the recipe and step by step instructions. http://mycakies.blogspot.com/2010/03/diy-cupcake-in-jar.html
Beverage In A Jar:  Tea or Lemonade!
Both iced tea and lemonade can be made ahead of time and served in mason jars.  You can ice them or you can keep them cool by wrapping them in towels with ice packs around them.  Be sure to bring straws for guests who don't enjoy the "jar feel" on their mouth 🙂
I suggest using the simple, cold brew, iced tea method to make your tea ahead of time and then pour into jars.  Here's another simple way of doing it.
http://www.ehow.com/how_2252873_make-refrigerator-iced-tea.html
Need more ideas?  Check out this Pininterest page on Food in A Jar and let your mind go wild.  http://pinterest.com/bgall/food-in-a-jar/
++++++++++++++++++++++++++++++++++++++++++++++++++++++++++++++
Think great company, lofty music, comfort food and that long saved magazine all combined in a tea party to remember.  Picnic teas are easier than ever and can refresh a weary soul.  Remember, you don't need guests!  Pack your basket with your favorite foods in a jar and enjoy a couple of hours for yourself.  Ooh, that gives me an idea.  I think I will make some time to do that myself!
Tea Party Girl Asks: What are your ideas?